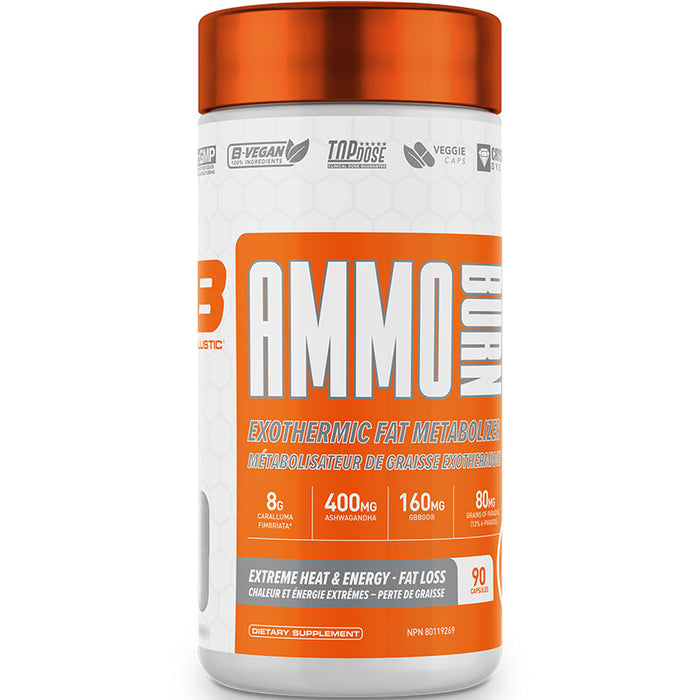 Ballistic Ammo Burn 90ct (90 Servings)
Ballistic Labs AMMO BURN is formulated with 9 clinically dosed fat melting and heat producing ingredients to create the perfect fat burning environment.

AMMO BURN will give you the energy to grind through even the toughest workouts on a low-calorie diet. And gone are the days of poor circulation and low body temperatures due to a reduced caloric intake.

AMMO BURN creates heat from head to toe like nothing else available on the market. Don't get burned by inferior, outdated fat loss products, instead BURN more fat faster with AMMO BURN.
What is Ammo
This is a four (4) stage time released stimulated fat burner designed to leave you feeling alert all day, while increasing the rate of the body's metabolism.

Why do I need Ammo?

This product is specially designed to be a full stimulant fat burner. AMMO will help you exceed your limits of fitness, assisting in an overall feeling of mental alertness, and increasing the body's metabolism allowing the body to breakdown stubborn built up fat cells.

How do I take Ammo?

Start at a low dose to let your body get used to the stimulants. We suggest one (1) capsule upon awakening, and one (1) capsule during the day, and not to be taken later than 4pm. After one week you may increase your dose, not to exceed four (4) capsules per day.