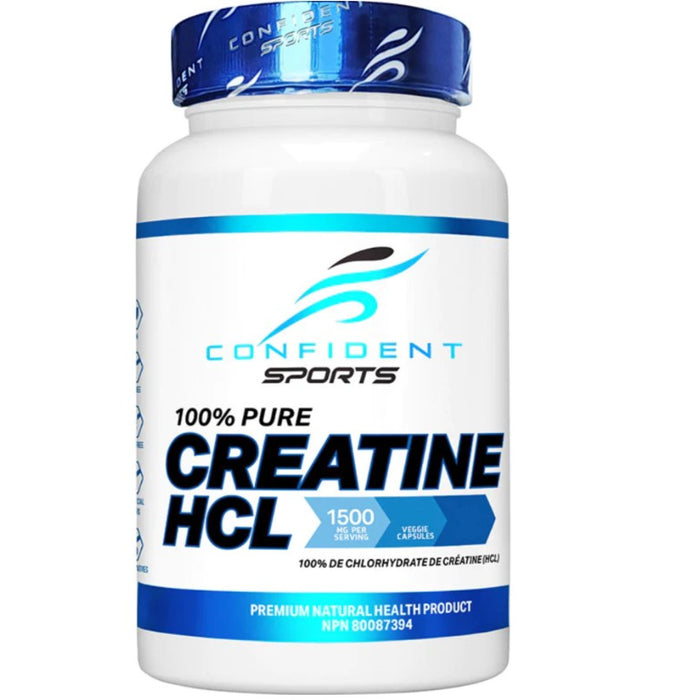 Confident Creatine HCL (120ct)
Confident Sports Creatine HCl

100% Pure Creatine HCl
Confident Sports 100 % Pure Creatine HCl
A Premium Creatine Supplement to Elevate Your Performance
Introducing Creatine HCl from Confident Sports, a superior supplement that provides athletes and fitness enthusiasts with enhanced benefits for improved performance and results. Confident Sports Creatine HCl is a highly soluble and absorbable form of creatine, making it easy for the body to utilize and benefit from. Unlike other forms of creatine, Creatine HCl does not require a loading phase or insulin spike for optimal absorption. It is a standalone product that can be taken on its own for maximum benefits. Confident Sports Creatine HCl is formulated with advanced technology for enhanced bioavailability, ensuring that your body receives the maximum benefit from every serving.
Key Features of Confident Sports Creatine HCl:
Enhanced Bioavailability:

 

Our advanced Creatine HCl formula ensures superior absorption and utilization within the body. Experience the full benefits of creatine with this high-quality product.
Power and Performance:

 

Elevate your athletic performance and push through intense training sessions. Confident Sports Creatine HCl provides the energy the muscles need to maximize strength, power, and overall workout performance.
Lean Muscle Development:

 

Fuel muscle growth. Confident Sports Creatine HCl aids in muscle recovery, helping athletes get back to their next training session faster.
Why Choose Confident Sports Creatine HCl:
NSF Certified Facility:

 

Manufactured in a state-of-the-art facility that follows GMP guidelines and is NSF certified, guaranteeing unmatched quality, purity, efficacy and safety.
Third-Party Tested:

 

Confident Sports Creatine HCl is tested by an independent lab to ensure purity, potency, and the absence of contaminants.
Advanced Formula:

 

Confident Sports Creatine HCl is scientifically formulated using the latest research and cutting-edge technology to deliver superior results.
Supplement Facts:
Serving Size: 2 capsules
Ingredients:
Medicinal Ingredients: Creatine Hydrochloride (HCl) [Glycine, N-(aminominomethyl)-N-methyl-, monohydrochloride]  5g
Non-Medicinal Ingredients: Hypromellose, Magnesium Stearate, Microcrystalline cellulose.