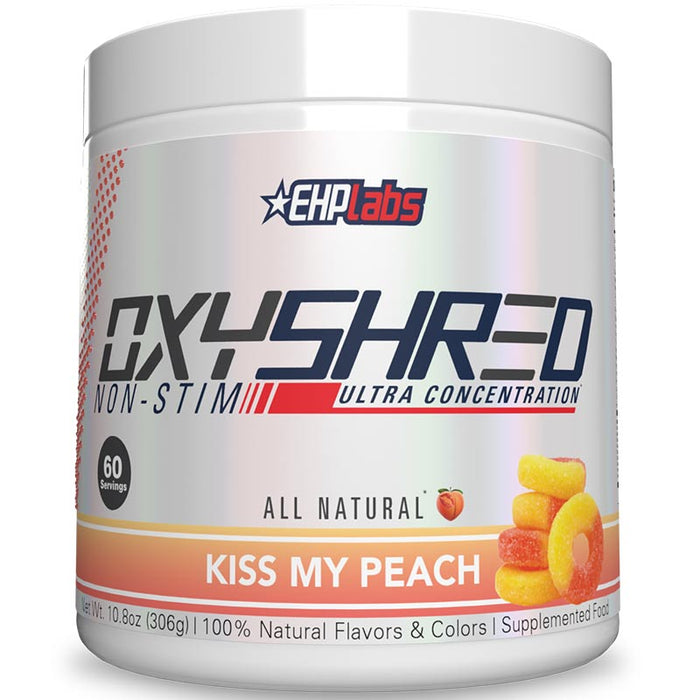 EHP Labs OxyShred Non-Stim 282g-324g (60 Servings)
If you've been searching for a non-stim fat burner that delivers all it promises and more, then OxyShred Peach Non-Stim is for you. OxyShred Non-Stim fat burner has evolved from the world-leading OxyShred Ultra Thermogenic, trusted by millions of people globally for delivering FAT LOSS RESULTS.

This fat burner is perfect late night trainers or for anyone with a caffeine or stimulant intolerance. It delivers a smooth and consistent natural energy, with razor sharp focus and mood enhancers to get you moving and burning calories. If caffeine is not your thing, but you're still serious about getting results, OxyShred Non-Stim is designed for you.

OxyShred Non-Stim contains all of the fat burning ingredients you would expect from OxyShred; Acetyl L-Carnitine, Raspberry Ketones and CLA, plus with the addition of Huperzine A – for memory & learning enhancement, increased alertness and an increase in energy. So despite the lack of caffeine, you will still have energy and focus, but without the long lasting effects of caffeine.
For optimum results take twice daily - Mix 1 scoop with 10 ounces (295 ml) of chilled water first thing in the morning on an empty stomach, and on training days, consume 15 minutes prior to exercise. Avoid eating or consuming a protein shake within 20 minutes before or after consumption for maximum absorption.
WHEN TO USE IT? 
Morning: Use OxyShred first thing in the morning on an empty stomach to maximize fat burning throughout the day. Add a scoop of Acetyl L-Carnitine to improve the effectiveness of OxyShred and take your fat loss to the next level. 
Pre-Workout: Use OxyShred and Acetyl L-Carnitine 20 minutes before training to provide you with extra energy and focus for your workout.
Ingredients
Non-Stim Fat Burning Matrix: (2090 mg)
Acetyl L-Carnitine HCl, L-Carnitine Tartrate, Garcinia Cambogia Fruit Extract (60% Hydroxycitric Acid), Conjugated Linoleic Acid (CLA), Raspberry Ketones (From Raspberry Fruit Extract), Theacrine, Olive Leaf Extract (10% Oleuropein), Grapefruit Seed Extract 4:1, Mango Seed Extract, Guggul Extract Powder (Guggulsterone), Chromium Picolinate
Immunity Booster Prebiotic (625 mg):
L-Glutamine, Inulin Fiber, Vitamin C (as Ascorbic Acid)
Mood Enhancer Matrix (851 mg):
L-Taurine, L-Tyrosine, Huperzia Serrata Whole Herb Extract (Huperzine A)
Full B Vitamin Spectrum (25 mg):
Niacinamide, D-Calcium Pantothenate, Pyridoxine HCl, Riboflavin, Thiamine Mononitrate, Vitamin B12
Other Ingredients:
Citric Acid, Natural Flavor, DL-Malic Acid, Sucralose, Silicon Dioxide, Calcium Silicate, Beta-Carotene (Color).