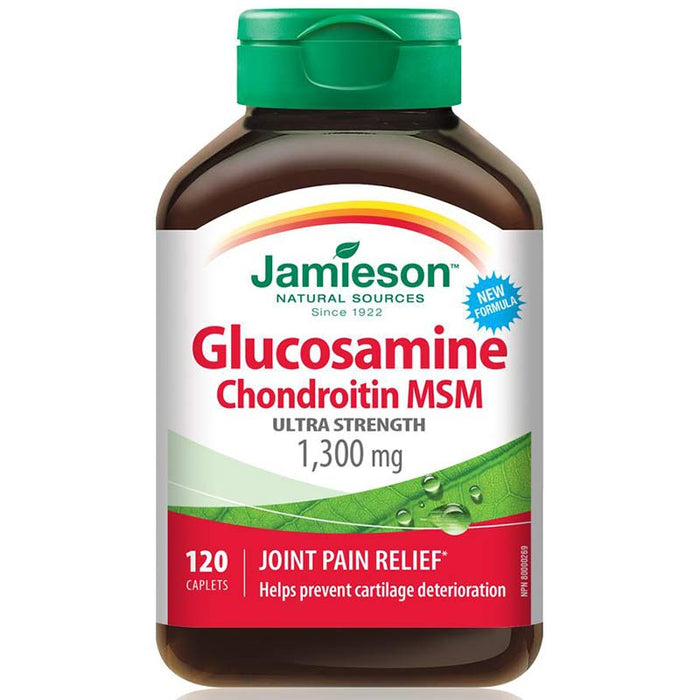 Jamieson Glucosamine Chondroitin MSM 1300mg 120 cap
Product Description
Jamieson Glucosamine Chondroitin MSM 1,300 mg is a high-potency formula that combines three well known, natural compounds to help maintain healthy joints and cartilage, while relieving joint pain associated with osteoarthritis.
Directions
Adults: Take 3 caplets  daily with a meal. Avoid taking at bedtime. Use for a minimum of 1 month to see beneficial effects. Store between 15°C and 25°C, away from children.
Serving Size
3 caplets daily
Quantity
120 caplets
Benefits
Joint pain relief
Helps prevent cartilage deterioration
Ultra strength formula
Nutrient Information
| | |
| --- | --- |
| Glucosamine sulfate (Glucosamine sulfate KCl derived from Shrimp and Crab exoskeleton) | 500 mg |
| Chondroitin sulfate (Chondroitin sulfate sodium from bovine cartilage) | 400 mg |
| Methylsulfonylmethane (MSM) | 400 mg |
Also Contains
Cellulose, modified cellulose gum, vegetable stearic acid, silica, water-soluble cellulose, titanium dioxide, hydroxypropyl cellulose.
NO salt (NaCl), sugar, starch, gluten, lactose, artificial flavours or preservatives.
Warning
Consult a health care practitioner if symptoms worsen, or prior to use if you are pregnant or breastfeeding. Some people may experience mild gastrointestinal bloating, constipation, or indigestion.