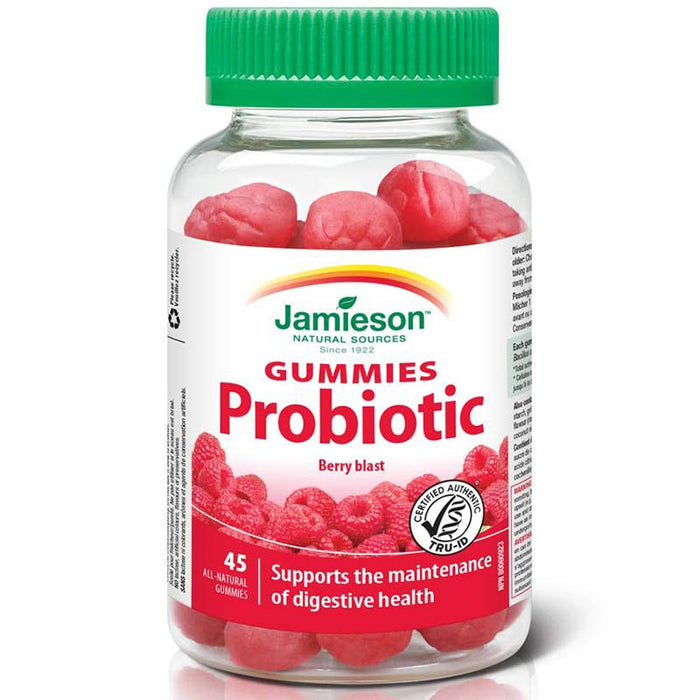 Jamieson Probitoic Gummies 45 cap
Product Description
Probiotic Gummies are a delicious way to share your probiotics with the entire family. Delicious raspberry flavoured probiotic gummies provide 1 billion active cells to supports the maintenance of digestive health.
This product has been certified through TRU-IDTM. Click HERE to learn more!
Directions
Children 3+, adolescents and adults: Chew 1 gummy daily. Take at least 2-3 hours before or after taking antibiotics/antifungals. Store between 15 °C – 25 °C, away from children.
Serving Size 
1 gummy daily
Benefits
Supports the maintenance of digestive health
Fun and delicious gummies
Provides 1 Billion active cells
Suitable for both adults and children 3+
TRU-IDTM

 

Certified
Nutrient Information
Bacillus coagulans

 

(IS-2)
1 Billion CFU*
*Guaranteed to expiry
Also Contains
Natural fruit juice (pineapple), glucose syrup, cane sugar, starch, gelatin (bovine), invert syrup, sodium citrate, citric acid, natural raspberry flavour, natural colour (cochenille extract), fractionated coconut oil, Brazilian palm tree wax.
NO lactose, artificial colours, flavours or preservatives.
Warning
Consult a health care practitioner prior to use if you have fever, vomiting, bloody diarrhea or severe abdominal pain. If symptoms of digestive upset (e.g. diarrhea) occur, worsen, or persist beyond 3 days, discontinue use and consult a health care practitioner. Do not use this product if you have an immune-compromised condition (e.g. AIDS, lymphoma, patients undergoing long-term corticosteroid treatment).