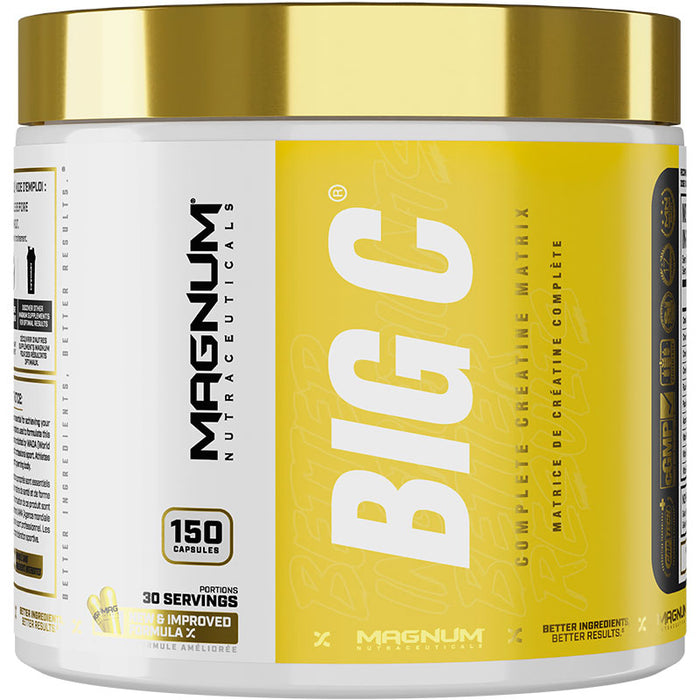 Magnum Big C 150 ct (30 Servings)
Big C®

Non-Water Retaining Creatine
Magnum Big C is a complete creatine matrix made up of a unique blend of four of the most researched and effective creatines available. This includes Creatine Monohydrate, Creatine Hydrochloride (HCL), Creatine Magnesium Chelate, & Creatine Alpha-Ketoglutarate (AKG). 
These bioavailable creatine sources are extensively studied for its ability to ignite strength, build muscle and enhance exercise performance. Magnum Big C will help you: 
Accelerate lean muscle growth

Improve strength & endurance

Maximize anaerobic & aerobic capacity

Eliminate water retention

 
Big C eliminates water weight through the varied absorption rates of the creatines combined with its unique blend of herbs, adaptogens, and absorption agents. This versatile new formula also includes Vitamin B6, Vitamin B12, and Vitamin D to support overall health. Bring on the gains with Big C! 
FAQ 
When is the best time to take Magnum Big C?
Magnum Big C is best taken twice daily. On training days take one serving of Big C 20-30 minutes prior to training and again immediately following training. On non-training days, take one serving of Big C in the morning and again in the evening.
​​How quickly can I expect results from Magnum Big C?
Many clients say they notice significant increases in both strength and recovery from training within 5 to 7 days.  If you are dieting you will notice that you carry more lean muscle tissue upon completion of your diet than you have in the past due to Big C's unique muscle-sparing properties.
Are there any products you recommend to take with Magnum Big C?
Yes, Magnum Big C has been formulated to work synergistically with other Magnum supplements including Magnum Thrust, Magnum Hard Muscle Builder, Magnum DNA, and Magnum Volume. Try stacking Big C with your favourite Magnum supplements based on your goals.