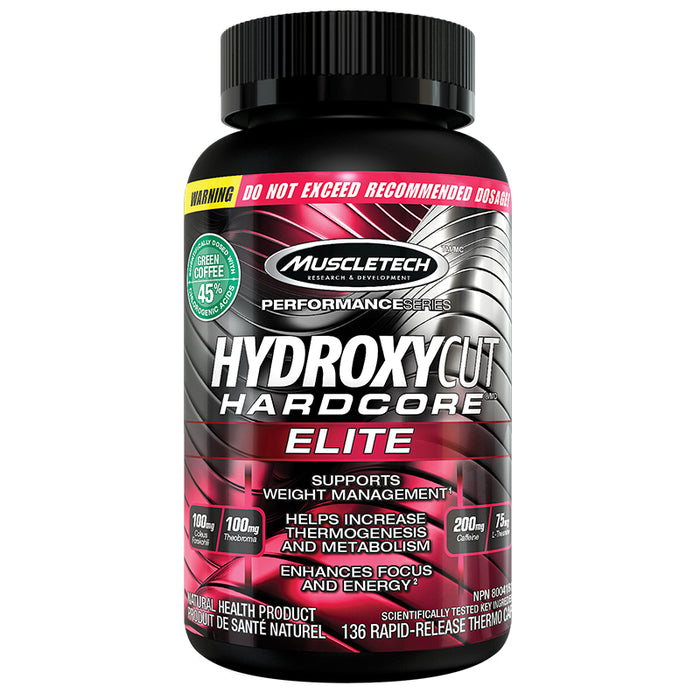 MuscleTech Hydroxycut Hardcore Elite 136 cap (68 Servings)
EXCLUSIVE SIZE! 136 RAPID-RELEASE THERMO CAPS
SUPPORTS WEIGHT MANAGEMENT

HELPS INCREASE THERMOGENESIS AND METABOLISM

ENHANCES FOCUS AND ENERGY
NEW HYDROXYCUT HARDCORE® ELITE FROM
NORTH AMERICA'S #1 SELLING HARDCORE SUPPLEMENT BRAND
All-new HYDROXYCUT HARDCORE® ELITE was rebuilt from the ground up with one purpose in mind: to provide you with an amazing sensory experience. With potent amounts of Coleus forskohlii, L-theanine, theobromine, and caffeine, this powerful formula delivers a one-of-a-kind sensory experience and jacks up energy levels!
POWERFUL SUPPORTIVE WEIGHT MANAGEMENT COMPLEX
Green coffee extract with 45% chlorogenic acids promotes a healthy weight management lifestyle when combined with an appropriate program of diet and exercise.
INTENSE FOCUS AND EXTREME ENERGY
HYDROXYCUT HARDCORE® ELITE also contains a powerful ingredient (caffeine) to help deliver a serious boost of energy and endurance!
If you demand what's best for your body and want an intense formula that works as hard as you do, look no further than HYDROXYCUT HARDCORE® ELITE!
NON-MEDICINAL INGREDIENTS: GELATIN CAPSULE (GELATIN, TITANIUM DIOXIDE, ALLURA RED AC, BRILLIANT BLUE FCF), MICROCRYSTALLINE CELLULOSE, MAGNESIUM STEARATE, SILICON DIOXIDE. / INGRÉDIENTS NON-MÉDICAMENTEUX : CAPSULE DE GÉLATINE (GÉLATINE, DIOXYNE DE TITANE, ROUGE ALLURA AC, BLEU BRILLANT F.C.F.), CELLULOSE MICROCRISTALLINE, STÉARATE DE MAGNÉSIUM, DIOXYDE DE SILICIUM.
Recommended Use or Purpose: Could be a complement to a healthy lifestyle that incorporates a calorie-reduced diet and regular physical activity for individuals involved in a weight management program. Use occasionally to help promote alertness, wakefulness, and to enhance motor performance and to help increase thermogenesis and basal metabolic rate.

Recommended Dose (adults):To assess tolerance take 1/2 serving (1 capsule) with a glass of water. Once tolerance has been assessed, take 1 serving (2 capsules) twice daily with a glass of water before your two largest meals (eg. breakfast and lunch). Do not take within 5 hours of bedtime. Do not exceed 4 capsules in a 24-hour period. For use beyond 12 weeks consult a health care practitioner.

RISK INFORMATION: Not intended for use by persons under 18. Do not use if pregnant or nursing. Discontinue use and consult a health care practitioner if you experience unusual symptoms. Discontinue use two weeks prior to surgery. This product should not be used by persons with cardiovascular, sleep or anxiety disorders. Consult a health care practitioner before use if you have been treated for, diagnosed with or have a family history of any medical condition, including high blood pressure, glaucoma, detrussor instability (overactive bladder syndrome), stomach ulcers or inflammation or if you are using any prescription or over-the-counter drug(s), including blood thinners or lithium. One serving of this product contains about as much caffeine as 2 cups of coffee. Caffeine sensitive individuals may experience the following symptoms including (but not limited to), restlessness, nervousness, tremors, headache, anxiety, palpitations, increased heart rate or difficulty sleeping. Consumption with other natural health products (e.g. bitter orange extract, synephrine, octopamine, ephedra) or other drugs (i.e. ephedrine) that increase blood pressure is not recommended. Do not combine with other sources of caffeine. This product is not intended as a substitute for sleep. Hypersensitivity/allergy is known to occur when taking caffeine, in which case, discontinue use. Consult a health care practitioner before starting a diet or exercise program. Consult a health care practitioner before use if you have diabetes. Do not exceed recommended serving. Improper use of this product will not improve results and is not advised. Use only as directed. KEEP OUT OF REACH OF CHILDREN