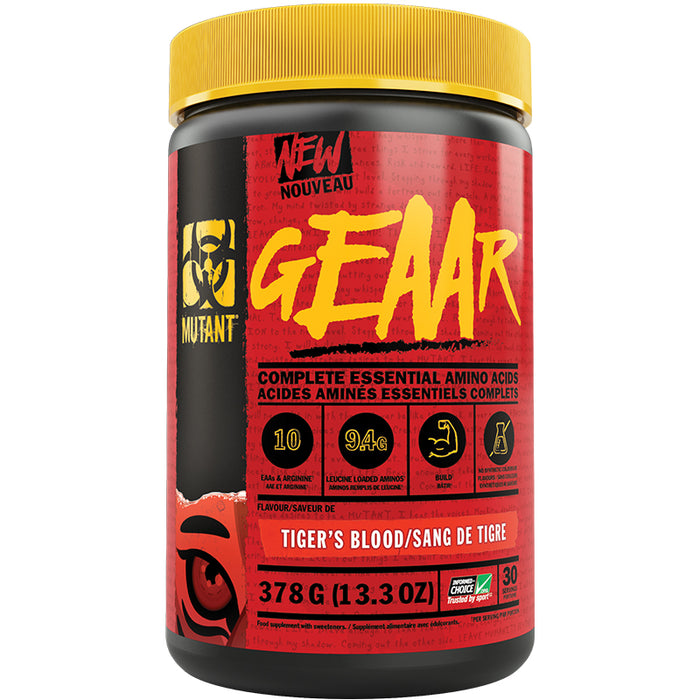 Mutant GEAAR 378g (30 Servings)
MUTANT GEAAR

Supports Muscle Growth & Recovery‡
Leucine Loaded

4 g Clinical Dose – Highest Dose of Any EAA
Metabolized into HICA & HMB for Anticatabolic Effects‡
Activates mTOR = Increase Protein Synthesis‡

9.4 g EAAs + Arginine

Increases Requirement During Overtraining & Dieting‡
Increases Insulin, Nitric Oxide & Nutrient Delivery‡

7 g BCAAs (8:3:3) – Highest Dose of Any EAA
Fermented/Vegan Aminos (Micronized & Instantized)


675 mg Electrolytes

Contains All 7 Electrolytes Needed by Your Body
Coconut Water Powder
Sea Salt
210 mg ALBION®

 

Magnesium Bisglycinate (buffered), Providing 60 mg Pure Elemental Magnesium
Aquamin®

 

Red Algae Minerals (Patented)

BioPerine®

 

(Patented)

Increases Absorption 25%**

Drug Tested by Informed-Choice for Over 200 Banned Substances
No Synthetic Colors or Flavors
No Proprietary Blends
Freakin' Delicious!
30 Servings


Science Says You Need All 10

Clinical research has shown that 9 essential amino acids (EAAs) plus arginine are needed to build muscle and increase recovery. Very few EAA supplements contain arginine, which is a conditionally essential amino acid (CEAA) needed during overtraining and prolonged dieting, but it also increases insulin and nitric oxide and helps shuttle amino acids into muscle. GEAAR was formulated with 9.4 grams of EAAs plus arginine, 7 grams of BCAAs and 4 grams of leucine. GEAAR is also stacked with natural electrolytes to maximize performance and made with no artificial flavors, colors or dyes. With over 10 grams of active ingredients in one scoop, GEAAR is the most complete EAA supplement commercially available.
Electrolyte Loaded
There are 7 electrolytes in your body (sodium, potassium, chloride, calcium, magnesium, phosphate and bicarbonate), which are involved in contracting muscles, regulating pH levels and keeping you hydrated. GEAAR contains all 7 electrolytes from coconut water powder, sea salt, ALBION® magnesium bisglycinate and AQUAMIN®, a patented deep ocean red algae mineral found in Iceland.
Drug Tested by Informed-Choice
As an added commitment to our quality control, MUTANT has formed a strategic alliance with Informed-Choice to independently lab test our products for banned substances. All MUTANT supplements that carry the Informed-Choice logo are banned substance tested. The standard supplement screening test covers over 200 banned substances prohibited in sport. If it's not on our label, it's not in our product!‡‡

Better Absorption
GEAAR contains no binders or fillers and is 100% instantized for maximum solubility. MUTANT researchers also included 300 mg of arginine which helps trigger Nitric Oxide (NO) production for superior vasodilation effects, enhanced blood flow and nutrient delivery!‡ GEAAR also contains BioPerine®, a patented compound clinically proven to enhance nutrient absorption by up to 25%.**