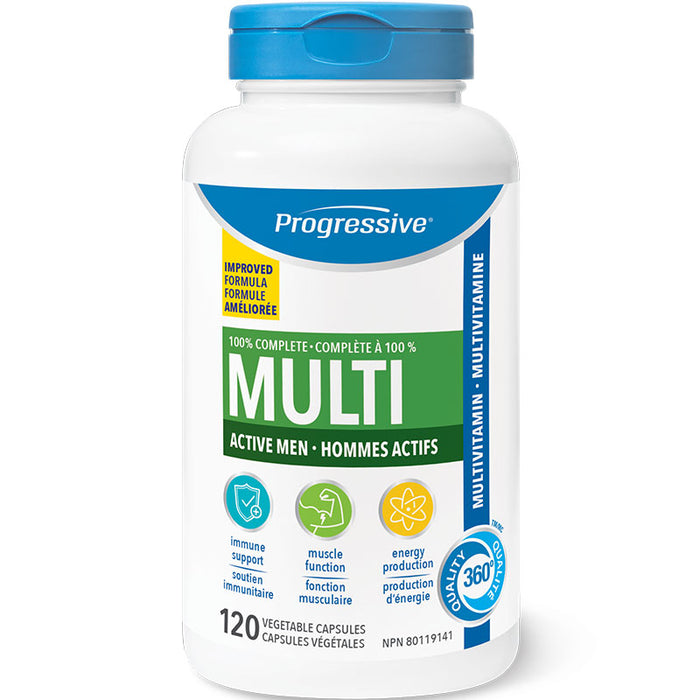 Progressive Active Men 120 cap
Progressive Active Men 120 cap-
Progressive 100% Complete MultiVitamin for Active Men is designed for men on the go. Whether you exercise regularly, work long hours, raise a family or any combination of the above, your body needs the support of an Active MultiVitamin formula. This improved formula features a complex of supporting nutrients designed to address Men's health needs. These include Quercetin, Saw Palmetto, Fenugreek, Maca, Ashwagandha, and Siberian Ginseng.
THE PROGRESSIVE DIFFERENCE


Formulated to provide 100% of the daily vitamin needs of adult men as defined by Health Canada
With added nutrients to support an active lifestyle
Helps support immune function
Helps support muscle function
Naturally energizing
Suggested Dose:
(Adult Men): Take 1 capsule with breakfast, lunch and dinner to minimize gastric disturbance for a total of 3 capsules per day. Take a few hours before or after taking other medications or natural health products. Consult a health care practitioner for use beyond 1 month.
Cautions:
Do not use this product if you have high blood pressure. Consult a health care practitioner prior to use to exclude a diagnosis of prostate cancer, or if: you are taking blood thinners; you have diabetes, a peptic ulcer or excess stomach acid; you have a history of non-melanoma skin cancer or any type of acute infection. Some people may experience drowsiness so avoid taking with alcohol or products that cause drowsiness. Exercise caution if operating heavy machinery, driving a motor vehicle or involved in activities requiring mental alertness. Stop use if hypersensitivity/allergy occurs. Consult a health care practitioner if symptoms persist or worsen