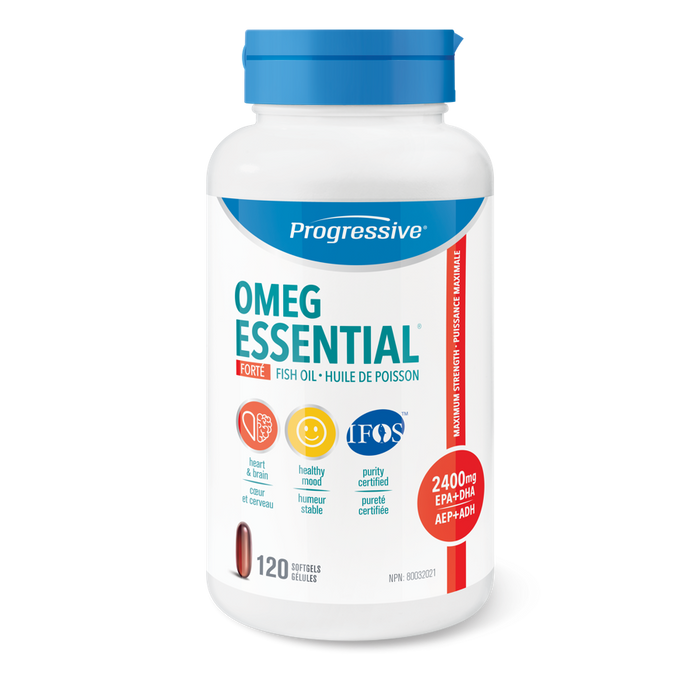 Progressive Omegessential FORTE 120 cap
Progressive OmegEssential® FORTÉ Maximum Strength Fish Oil is designed to provide a more therapeutic dosage intended to address specific health challenges. This includes promoting healthy mood balance, supporting cardiovascular health, reducing serum triglycerides and easing the pain of Rheumatoid Arthritis.
Each serving provides 1,600mg of EPA and 800mg of DHA in a balanced 2:1 ratio. It also includes a family of support nutrients designed to naturally enhance your body's ability to process and utilize the essential fatty acids.
1600mg EPA & 800mg DHA

3 Complementary fish oils

Cold water and wild caught fish – which contain lower levels of impurities

Molecularly distilled – to remove all unwanted contaminants

Additional antioxidants – to protect and preserve the high potency oil from oxidation
IFOS tested and certified – for guaranteed purity & potency

A clean, pleasant taste

Supports cardiovascular health, focus and mental acuity

Reduces serum triglycerides & eases the pain of Rheumatoid Arthritis

Assists with healthy mood balance and immune function

Fights inflammation & promotes healthy skin and hair
Purity
OmegEssential® FORTÉ, Maximum Strength Fish Oil, has been IFOS approved. IFOS (International Fish Oil Standards) is an international program for verifying the purity and potency of fish oil products.
This includes a full spectrum of laboratory testing for contaminants (including PCBs, Dioxin and heavy metals) as well as quantitative testing to confirm the potency of the active ingredients. IFOS also tests for rancidity, a common problem with fish oil supplements that have not been properly stabilized.
The IFOS standards are established in conjunction with the World Health Organization and the Council for Responsible Nutrition. The fish oil blend in OmegEssential® FORTÉ received IFOS's highest rating of 5 stars.
To view our recent IFOS testing results, follow these 3 easy steps.
Enter the lot number from your bottle or select 'Combination' from the available category options.

If you selected 'Combination', scroll down and select 'Progressive Nutritional Therapies'.
Sustainable
Purity and potency aren't the only considerations. Selecting fish from a sustainable population is also a top priority. The fish used to create OmegEssential® FORTÉ are primarily caught off the coast of Peru. The fishing methods follow the FAO code of conduct for responsible fishing and leave the seabed undisturbed. The Peruvian government manages the fisheries through the Ministry of Production and the Vice-Ministry of Fisheries. They follow and enforce the principles of protecting the eco-system, preserving bio-diversity and sustaining their marine resources. In 2008, the sustainability of Peru's fisheries and marine eco-system was ranked "Best in the World" of the 53 fish producing countries surveyed.
MEDICINAL INGREDIENTS
1 SOFTGEL
4 SOFTGELS
Cold Water Fish Oil Blend† (Sardine, Anchovy, Mackerel)
1,000 mg
4,000 mg
Providing
EPA (Eicosapentaenoic Acid)
400 mg
1,600 mg
DHA (Docosahexaenoic Acid)
200 mg
800 mg
Non-Medicinal Ingredients
Mixed Tocopherols
9.5 mg
38 mg
Extra Virgin Olive Oil
5 mg
20 mg
Rosemary Leaf Extract
2.5 mg
10 mg
Grape Seed Oil
1.25 mg
5 mg
Lemon Oil
1.25 mg
5 mg
Other Non-Medicinal Ingredients
Gelatin, Glycerin, St. John's Bread Extract.
Allergen
Contains fish
Suggested Use
Source of Omega-3 fatty acids for the maintenance of good health. Helps support cardiovascular health, brain function, promotes healthy mood balance and reduces serum triglycerides.
To preserve freshness, store in a cool, dry place with the lid tightly closed.
Suggested Dose (Adults)
Take 2 softgels with breakfast and 2 softgels with dinner for a total of 4 softgels per day.