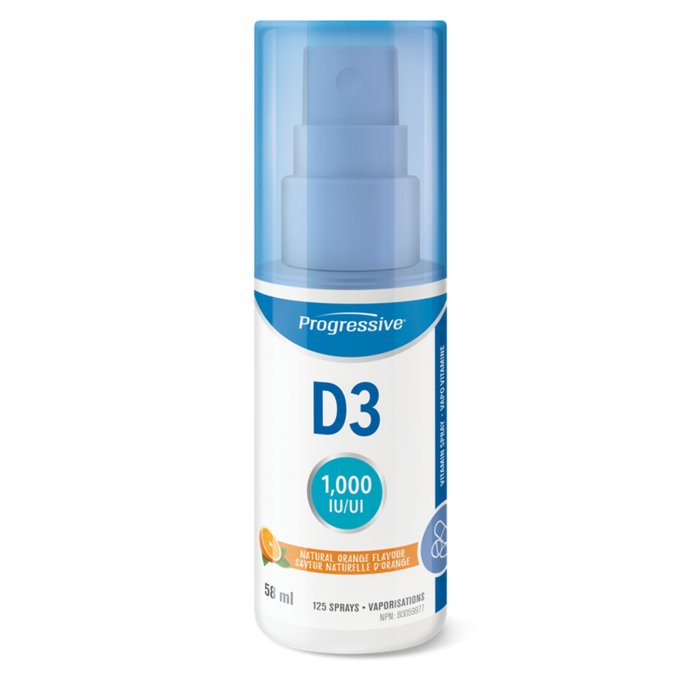 Progressive Vitamin D3 58ml
Progressive Vitamin D3 spray is the perfect choice for anyone who doesn't like taking pills. Vitamin D3 can help with the maintenance of good health. Vitamin D3 provides immune system support, promotes the development of healthy bones and teeth, and helps the body absorb calcium.
Convenient, travel-friendly, fast-absorbing spray

Supports a healthy immune system and bone health

Improves the body's absorption of calcium and phosphorous
Helps to maintain overall good health

Helps prevent vitamin D deficiency

Combined with MCT to aid absorption
MEDICINAL INGREDIENTS1 SPRAYVitamin D325 mcg(Cholecalciferol)1,000 IU
Non-Medicinal IngredientsPurified Water, Concentrated Apple Juice, Cellulose, Natural Flavours (Orange, Pineapple), Medium Chain Triglycerides, Xanthan Gum, Citric Acid, Potassium Sorbate, Stevia Leaf Extract, Mixed Tocopherols, Rosemary Extract.
Suggested Use (Adults)Spray directly into mouth once daily. Shake well before use. Store between 15°C and 25°C, away from children.