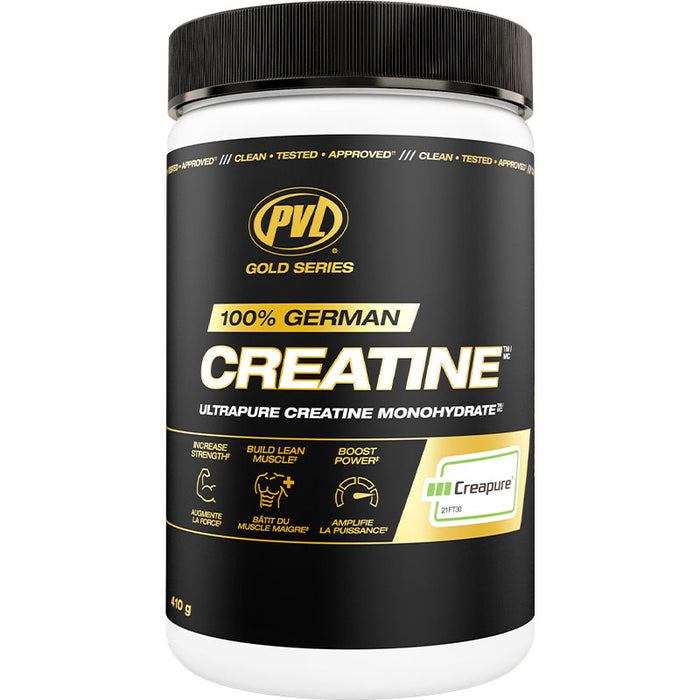 PVL 100% Creapure Creatine 410g (82)
PURE. PROVEN. PERFECT.
You seek the best in everything you do. You know what you put in is what you get out.

PVL Creapure® Creatine Monohydrate is considered the global gold standard. Simply the most widely studied form of creatine on the planet. Proven in hundreds of clinicaltrials to be safe, pure and highly effective.

Creapure® is the iconic brand name for pure creatine monohydrate produced by Alzchem Trostberg GmbH in Germany which is exclusively produced at one of a kind, specially-designed production facility.

Creapure® is animal free (vegan compliant) and exclusively manufactured in house by the world's strictest controls for pharmaceutical-quality creatine synthesis, in a wholly
dedicated, self-contained manufacturing facility – no other ingredients come into the facility – just those that make up Creapure®.
That provides an impenetrable "chain of
command" assurance that Creapure® is the cleanest of the clean – exactly what those who demand the best, want. Creapure® takes all the guess work out – and puts the trusted power of "the best of the best" in your hands.The production of Creapure® is IFS FOOD certified, a quality standard recognized by the "Global Food Safety Initiative".

Produced in compliance with Jewish and Muslim food regulations - and is both Kosher and Halal certified.