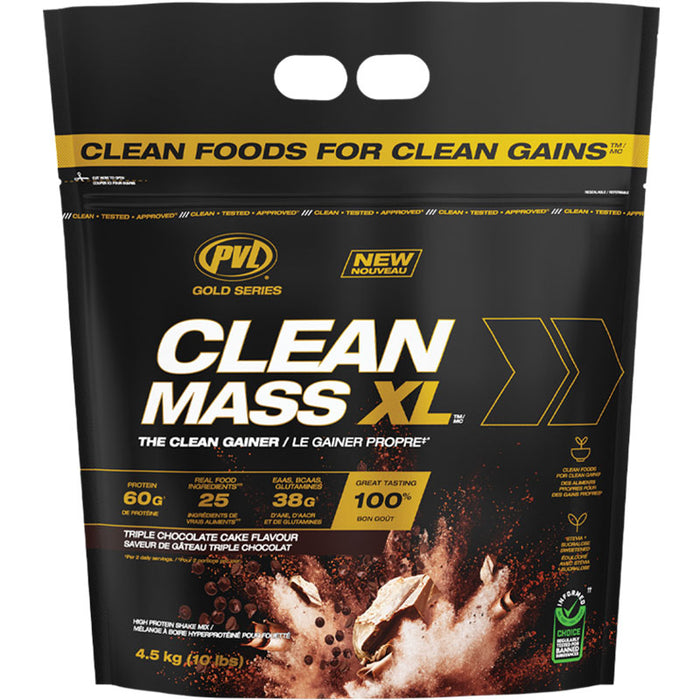 THE CLEANER GAINER!

 You can't meet your full potential when you're not eating enough nutrient-rich calories to recover from intense training sessions. Protein shakes sometimes simply are not enough!  The problem – a lot of mass gainer shakes are full of sugar, low-quality ingredients, and artificial additives that can be hard to digest and slow down performance.
CLEAN FOODS FOR CLEAN GAINS! ™ 
PVL CLEAN MASS XL is a premium blend of 25 real food ingredients to provide athletes with high calorie & high-quality nutrition to fuel their sport. Our delicious clean mass gainer is made with complete proteins, clean carbs, healthy fats, pre- and probiotics, digestive enzymes, electrolytes, greens, and fruits to help energize every movement. CLEAN MASS XL doesn't just help build mass - it helps build a healthy foundation for all athletic pursuits. 
KEY BENEFITS 
60g† Complete Protein
25 Real Food Ingredients 
38g† EAAs, BCAAs, Glutamine
200g† Clean Carbs (Organic Quinoa, Brown Rice, Sweet Potato & more)
3g† Healthy Fats & Zero Added Sugars
Greens Micronutrients (Broccoli, Spinach, Kale & more)
Digestive Enzymes & Electrolytes including Aquamin®️ Marine Calcium
Banned substance tested by Informed Choice
†Per 2 daily servings
/// CLEAN • TESTED • APPROVED /// 
ZERO artificial colours or flavours
CLEAN formula, quality ingredients 
TESTED by Informed Choice™ 
TRUE GMP verified quality 
UNRIVALED 25+ years XP
FOR ATHLETES by athletes