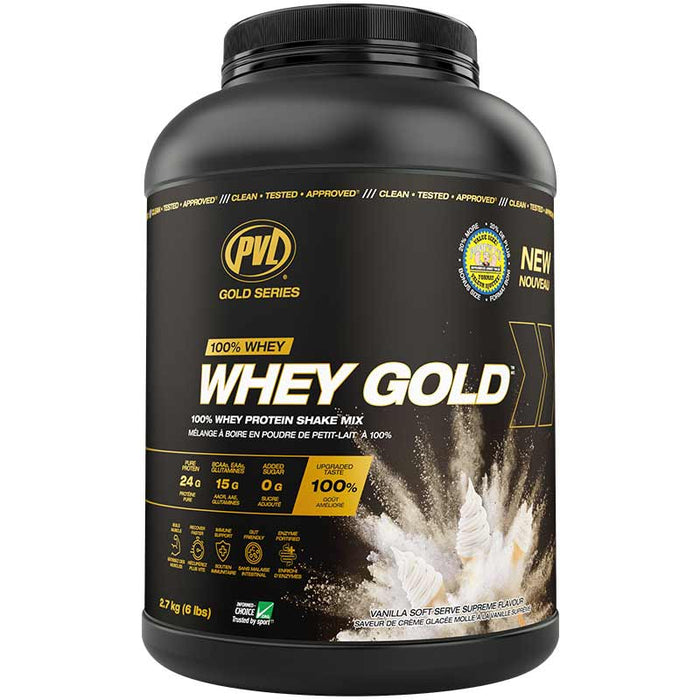 PVL Whey Gold 6lb (72 Servings)
100% WHEY - WHEY GOLD!


UPGRADED FLAVOUR... AN UPGRADED EXPERIENCE.
You demand the best. At PVL, we demand it too! Getting enough quality protein to help us all recover, grow and reach our goals can be a challenge. Which type of protein; how much; when? Thankfully, 100% whey protein has legendary quality – and NEW PVL® 100% WHEY GOLD takes it to a whole new level! Our advanced formula is cleaner and absorbs faster than inferior protein sources.
Quite simply - you can reach your goals sooner! grass-fed and hormone-free, grade-A dairy sources. We add quality ingredients to deliver the superior taste and shake-like consistency; and non-GOM lecithin to make it shake up easy!
NEW 100% PVL WHEY GOLD is then drug tested, so you know it is safe for all sports!
Enjoy! Its NEW PVL 100% Whey Gold.
24g GRASS-FED WHEY PROTEIN
100% WHEY SOURCED
EASY MIXING ENZYMES FOR IMPROVED DIGESTION
INFORMED CHOICE TESTED
IMMUNE BOOSTING
NO ARTIFICAL FLAVOURS
NO ARTIFICAL CLOURS
0 ADDED SUGARS
NO ASPARTAME OR "ACE K"
NO GMO
NO GLUTEN