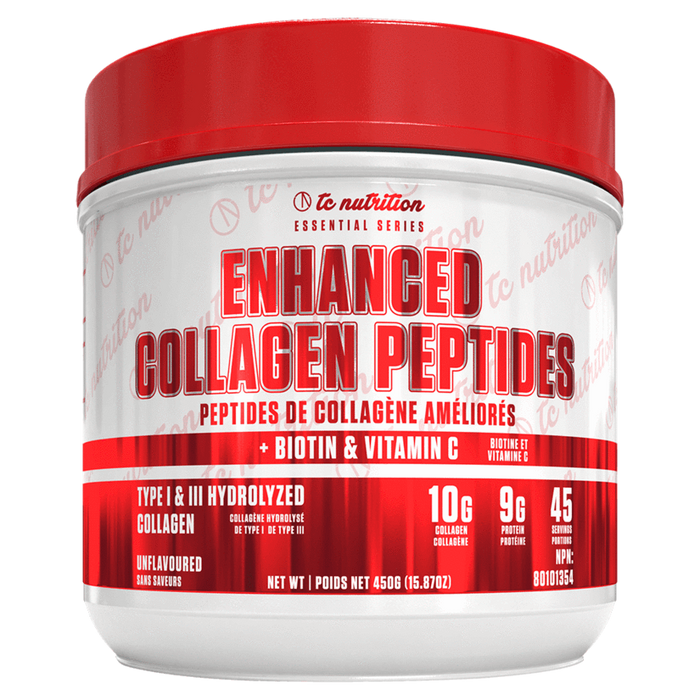 TCN Enhanced Collagen Peptides 450g (45 Servings)
HEALTHY HAIR, SKIN, & NAILS
If you want to keep your skin, hair, and nails looking their best, you want TC Nutrition's Enhanced Collagen Peptides + Biotin & Vitamin C. This unique blend of supplements helps maintain a youthful and radiant complexion by increasing collagen, the main protein that makes up the connective tissue in the body. Collagen also helps heal injuries by stimulating the formation of blood vessels. Biotin is another essential vitamin that benefits the body by promoting stronger nails, healthier hair, and even supporting a healthy metabolism.
Each serving contains 5 mg of 99% pure biotin
100% of your daily recommended vitamin C
Gluten-free
Zero carbs or sugar
Nine grams of protein
Promotes joint health and mobility
Enhances the health of your skin, nails, and hair
Supports the body's recovery of injuries
45 servings in each container
Unflavoured
TRANSPARENT INGREDIENTS
TC Nutrition gives you all of the good with none of the bad. This supplement contains 10g of collagen and 5,000mg of 99% pure biotin in a dye- and gluten-free formula with zero carbs or sugar. The company manufactures its products in an FDA compliant facility that is Good Manufacturing Practice certified so you can feel good about feeling great.
JOINT SUPPORT
Collagen makes up a considerable part of the body's connective tissue, including the joints, muscles, and ligaments that connect the bones. Increasing the body's supply of collagen helps improve joint health and supports the body's ability to repair damaged muscles and other injuries. When you're pushing yourself in the gym, on the field, or the court, it's essential to ensure you bounce back as fast as possible.
Work harder and recover faster with TC Nutrition's Enhanced Collagen Peptides + Biotin & Vitamin C!
SUPPLEMENT NUTRITION INFO
45 SERVINGS / UNFLAVOURED