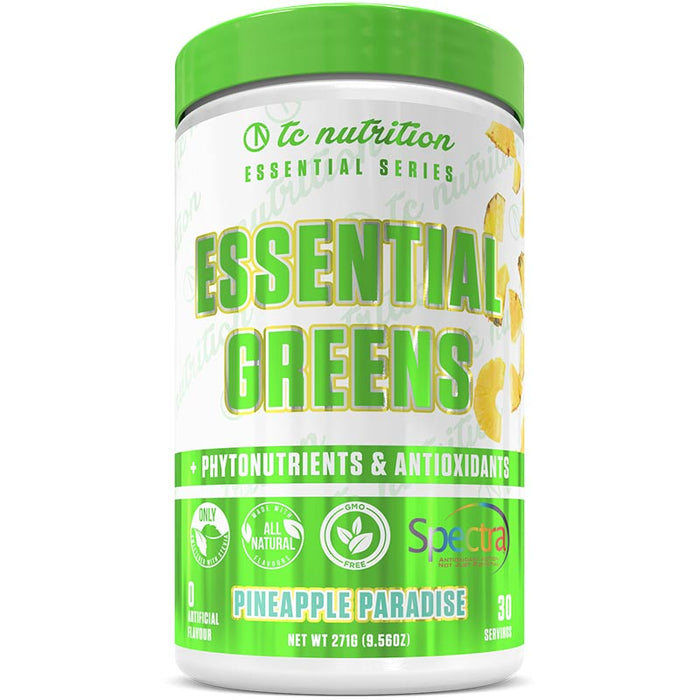 TCN Essential Greens 271g (30 Servings)
MUST-HAVE GREENS
Help your body maintain its energy and health with Essential Greens Powder from TC Nutrition. This naturally flavoured powder has everything you need to feel your best inside and out. Enjoy digestive and antioxidant support, protection against free radicals, and more, all in a formula that tastes delicious.
Loaded with natural superfoods, phytonutrients, and antioxidants
Supports a healthy digestive system and protects against oxidative stress
Organic, non-GMO, and vegan friendly
Supports digestive regularity
30 servings
Three flavours
CONTAINS SUPER ANTIOXIDANTS
Free radicals are unstable molecules the body creates when exposed to stress and environmental changes. If our bodies can't purge these free radicals, we create oxidative stress that causes cell damage and inhibits body processes. Our Essential Greens help stimulate antioxidants that protect the body from free radicals.
ORGANIC, NON-GMO, AND VEGAN FRIENDLY
This formula is delicious and nutritious, allowing more people than ever to enjoy the benefits of Essential Greens. Each serving is sweetened with 100% Stevia, loaded with superfoods, and is organic, vegan-friendly, and non-GMO. Support your body inside and out with Essential Greens Powder by TC Nutrition.