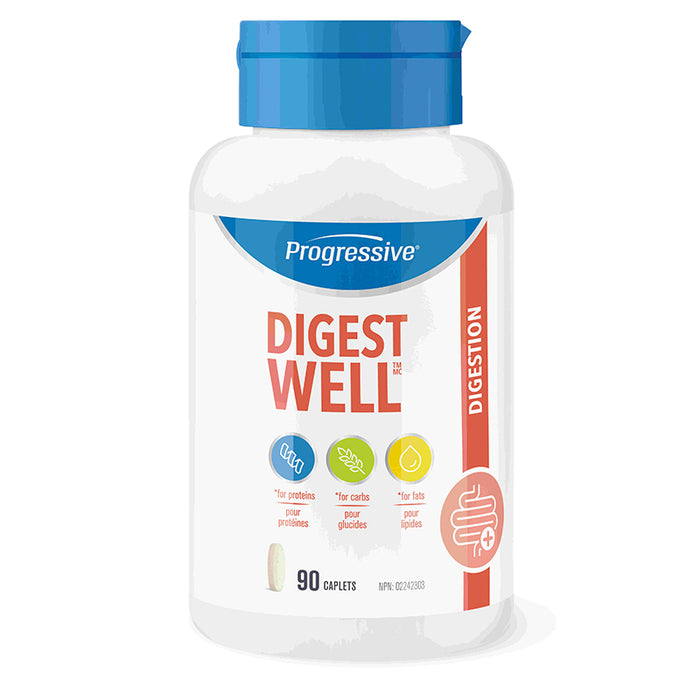 Progressive Digest Well 90 cap
Digest Well™ is a full spectrum plant-based enzyme, featuring papain, bromelain, lipase, amylase, lactase and cellulase. It's a unique blend targeting protein, carbohydrates, fats and lactose, to help ensure you digest (everything) well. 
The formula includes:
Amylase – helps digest carbohydrates

Bromelain – helps digest proteins

Cellulase – helps digest fibre

Lactase – Helps digest milk sugar (lactose) in dairy products

Lipase – helps digest fats

Papain – helps digest proteins
Plant-sourced digestive enzymes to support the digestion of protein, fat, carbohydrates, starch, dairy, and fibre
Support healthy digestion and gut balance

Ease gut inflammation
MEDICINAL INGREDIENTS1 CAPSULEAlpha-Amylase50 mg/1,500 FCC DU(Aspergillus oryzae, whole)Bromelain30 mg/7,200 FCC MCU(Ananas comosus, stem)Cellulase15 mg/300 FCC CU(Trichoderma longibrachiatum, whole)Lactase30 mg/30.75 FCC ALU(Aspergillus niger, whole)Lipase30 mg/32 FCC LU(Aspergillus niger, whole)Papain50 mg/900,000 FCC PU(Carica papaya, fruit)Non-Medicinal IngredientsCellulose, Dicalcium Phosphate, Modified Cellulose Gum, Vegetable Magnesium Stearate, Peppermint Leaf Extract, Silica, Riboflavin, Fennel Seed Extract, Calcium Gluconate.Suggested UseSupports healthy digestion*.Suggested DoseTake 1 caplet 3 times daily with a meal. For prolonged use, consult a health care practitioner.CautionsConsult a health care practitioner prior to use if you are pregnant or breastfeeding; have diabetes; have a gastrointestinal lesion/ulcer; are taking an anticoagulant/ blood thinner, antiinflammatory or antibiotic or are having surgery; have an allergy to latex or fruits (such as avocado, banana, chestnut, passion fruit, fig, melon, mango, kiwi, pineapple, peach and tomato). Headaches, heartburn, bloating, nausea, vomiting, diarrhea and hypersensitivity/allergy have been known to occur; in which case discontinue use. If symptoms persist or worsen, discontinue use and consult a health care practitioner.